Welcome
Welcome to the official website for the United States District Court for the Eastern District of Oklahoma.
***PLEASE CALL THE COURT AT (918) 684-7920 BEFORE COMING TO THE COURTHOUSE***
Pursuant to General Order 20-12, any person entering the courthouse must wear a mask or face covering.
Click here for COVID-19 INFORMATION
NOW LIVE: NextGen CM/ECF. Click here for more information!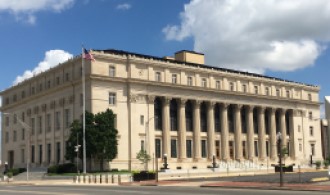 News & Announcements
The cm/ecf server and E-Juror portal will be off-line for maintenance beginning Saturday, Septemb More »
Find below the public dial-in information for the hearings on September 23rd. 10:00am More »
Find below the public dial-in information for the hearings on September 22nd. More »