Welcome
Welcome to the official website for the United States District Court for the Eastern District of Oklahoma.
Fully vaccinated individuals are no longer required to wear a mask or physically distance within the Ed Edmondson Federal Courthouse.
Click here for COVID-19 INFORMATION
***COURTHOUSE CLOSED, Friday 6/18/2021***
Congress has passed and President Biden has signed into law today the Juneteenth National Independence Day Act, establishing June 19th as a Federal Holiday. The Ed Edmondson Courthouse will be closed Friday, June 18, in observance of this Federal Holiday.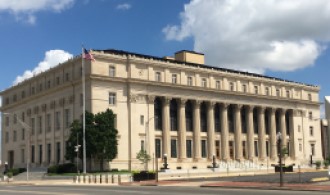 News & Announcements
Find below the public dial-in info for the hearings 06/22/2021 The public is advised that they sh More »
Find below the public dial-in info for the hearings 06/17/2021 The public is advised that they sh More »
Find below the public dial-in info for the hearings 06/21/2021 The public is advised that they sh More »